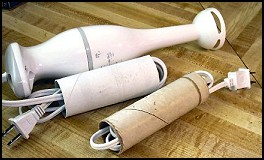 CORD CADDY
I got this idea from my Grandma. Save your old toilet tissue and paper towel tubes and use them to keep your appliance cords under control. As you can see in the photo, I've used them for my stick blender and the cord to my electric mixer.
MEASURING PORK RINDS TO USE IN RECIPES
If you don't have a kitchen scale, 3-4 ounces of finely ground pork rinds measure out to about 1 to 1 1/4 cups. Figure 1/4 cup for each 1/2 ounce called for in the recipe.
DRAINING FROZEN SPINACH
I got this idea from Cook's Country magazine. Thaw your spinach in its original box and wrapping. Snip one corner off the box with scissors. Be careful not to make too big of a hole that the spinach can come out. Now hold the box over the kitchen sink with the hole facing downward and squeeze the heck out of the box to get the water out. I found that I needed to twist the box a bit to get it all out.
QUICK WAY TO REMOVE THE FAT FROM PAN DRIPPINGS
Here's another tip from Cook's Country magazine. Pour your pan drippings into a big glass measuring cup, let stand about 5 minutes to allow some of the fat to go to the surface. Add several ice cubes and let them stand for about 5 minutes. When you scoop out the ice cubes, most of the fat will come out with them. One problem is how to dispose of the greasy ice cubes since you can't just put them down the sink. I always keep an old coffee can in my fridge to put grease that I drain off ground beef, etc., so I dumped the cubes into that can.
MAKING "TRISHZ" LIQUID SPLENDA FROM SWEETZFREE
If you've used both Sweetzfree and TrishZ's versions of liquid Splenda, you'll know that Sweetzfree is a lot more concentrated. That's not usually a problem unless you need the equivalent of a tablespoon or less of sugar. There's no way to measure out half a drop of Sweetzfree and an extra drop can make a huge difference in the sweetness. So, I've come up with a formula for making my own "TrishZ" liquid Splenda out of Sweetzfree. I store it in an old squeeze bottle and mostly use it to sweeten my tea and coffee. Here's the formula:
1. Put 2 teaspoons Sweetzfree in a measuring cup.
2. Add enough distilled water to fill it to the 1/4 cup line.
3. Using a small funnel, pour this into a small bottle and shake well.
MAKING MILK OUT OF HEAVY CREAM
What do you do when you have a recipe that calls for milk or when you want something to pour over your low carb breakfast cereal? Most low carb cooks use a mixture of half heavy cream and half water. This works very well, but is quite high in calories and fat compared to milk. If calories and fat are a concern for you, I've found that you can cut back on the cream and still end up with an acceptable "milk". You won't get quite the body and flavor that milk has, but with just 2 tablespoons of cream per cup of "milk", it will still have a rich, cream flavor, the calories will be drastically reduced and it should work fine in many recipes. Here are the counts for various milk formulas: